Characteristics
TQ 1 is an unalloyed Cr-Mo-V steel with very high toughness, firmness during the heat and resistance to the hot abrasion (higher than by other classic steels 1.2343, 1.2344, 1.2367). TQ 1 is produced only by ESU technology due to which the material has a high cleanness and a low content of trace elements. It is delivered in the soft-annealed state of max. 220 HB.
Suitability
TQ 1 is appropriate for using in the following applications during a very high stress: pressure casting, extrusion, stamping, hot working. It is very appropriate for highly polished parts of molds (e.g. production of headlights etc.) due to ESU properties.
Chemical composition of steel TQ1
Steel grade
Chemical composition in %
Hardness in state
soft-annealed
heat-treated
C
Mn
Si
Cr
W
Mo
V
Ni max
Co
P max.
S max.
HB max.
HRC min.
TQ1
0,36
0,40
0,25
5,20
1,90
0,55
220
54
Heat treatment of steel TQ1
Way
Temperature [°C]
Procedure
Forging
For all the heat treatment of steel TQ1 we recommend the company BODYCOTE
Soft annealing
Annealing to lower tension
Hardening
Tempering
Tempering chart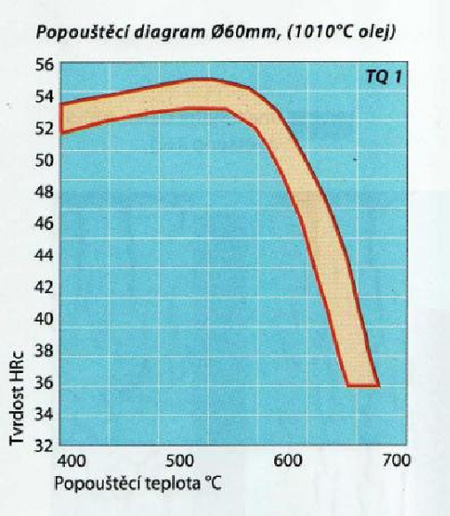 ARA chart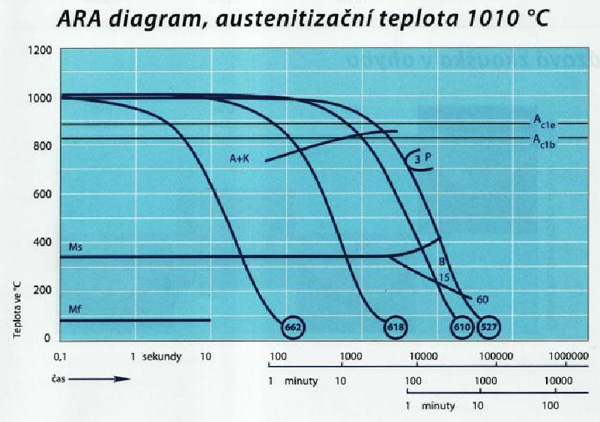 Product range
Round bars: D102 - D605
Blocks: 510x810
We will deliver any semi-finished products from the above mentioned dimensions. Other dimensions, except for given stock supplies, have to be consulted with us.
Back